Utlånshær – Chaos Space Marines
Klubben har en Chaos Space Marine hær med nyeste Codex for utlån, vi har et godt utvalg med styrker du kan lage listene ut fra, samt at vi har ferdige lister. Hæren har Death Guard tema, og dyrker selvsagt Nurgle.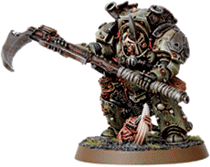 Tilgjengelige Enheter, og ca poeng:
Chaos Lord(140)
6xChosen(200)
40xCultists(200)
Chaos Predator, lascannon og sponsons (125)
Chaos Rhino (50)
1x Obliterator (70)
Hellbrute(120)
10 x Plague Marines(180) (Nurgle)
10 x Tactical Marines(120) (HB/ML)
5 x Thousand Sons(140)
Typhus(230)
3x Terminators (145)
Lister klare til bruk:
1000 points Assault Force
I denne listen har Typhus gjort om vanlige kultister om til zombier, de kan han bruke som skjold til å komme seg i nærkamp. Han slår sist med våpenet sitt, men tar ut det meste. Zombiene har Feel No Pain, som betyr at dersom de tar et wound kan de kanselere det på en 5+ på en terning (etter evt coversaves). Lista er lagd for å komme tett opp i fienden, og i close combat. Obliteratoren bør holdes litt i bakhånd for å ta ut kjøretøy.
HQ Typhus
2+,5++, FNP, MoN,Psyker2, VotLW, Fearless, Fear, Champion. Lord of Terror.
Troop 10 x Plague Marines
GOM,VotlW
Troop 10x Chaos Space Marines (Flamer, Missile Launcher og Mark of Nurgle)
Troop 30xPlague Zombie Cultists
FNP, Fearless, Slow and Purposeful, Only close combat.
Heavy Support Obliterator
Power Fist, Daemon, Bulky, Deep Strike, Slow and Purposefull, Fleshmetal, MoN, Kan velge mellom mange våpen hver runde.
Elite Hellbrute (Heavy Flamer og MultiMelta)